The New Redesigned 2004 Residential Standby Generator Enclosure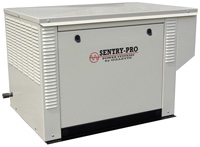 Full sized doors on both sides, for easy access to all service parts.
All doors are lockable with one common key.
Cooling air flow design is protected from bad weather. Sleet and snow can't clog up louvers or unprotected air slots.
All weather housing metal is galvaneel plated for rust-proofing.
Baked-on enamel paint is of UL Recognized, for gloss retention (UV resistant) and has past UL test of 1000 hour continuous salt spray without deterioration.
Muffler exhaust pipe has been removed from roof, and placed in hot air chute, away from possible accidental contact.
Rodent/bird guards on both cool and hot air chutes.
Stainless steel hardware on all external surfaces.
Generator base is of formed heavy gauge steel, not of angles and sheet metal, as in competitor's models.
An all aluminum housing is available for coastal areas, where constant salt is a problem.
All in all, this new standby housing is unique, attractive in appearance and price, plus it's easy to understand, to use, and to service. It's just that simple!